Install table top dishwasher with kitchen sink
January 16, 2021 • ☕️ 4 min read
If you are a renter or if your house doesn't have the extra water inlet and outlet but you also want to install dishwasher to make your life easier, this article will help you DIY the pipe of dishwasher on your own.
---
I cook quite often, so washing dishes is a painful thing from time to time. Especially in this remote/lockdown period, I prepare and cook basically every meals, washing dishes becomes more often than before. So, dishwasher will definitely be a life saver if I manage to install it 😅
Let's do it!
Buy a dishwasher
As far as I know, all dishwashers use the standard pipe connectors. Therefore, just pick the model fitting in your use case most. In my scenario, my kitchen doesn't have the default dishwasher space, so I bought the table top model. Here are some models in the Amazon Germany for your reference:
I ended up buying Bomann TSG 708 Table Dishwasher Energy Efficiency Class.
Install the dishwasher
The apartment I rent doesn't have a default space and water drainage for dishwasher. I also don't allow to renovate the kitchen(if I can, I also don't want).
This way, how to install dishwasher without extra water inlet and outlet?
The idea is putting dishwasher besides the sink and make the water for dishwasher come from the kitchen tap and the directly pipe the water to sink.
Step 1: Put dishwasher near kitchen sink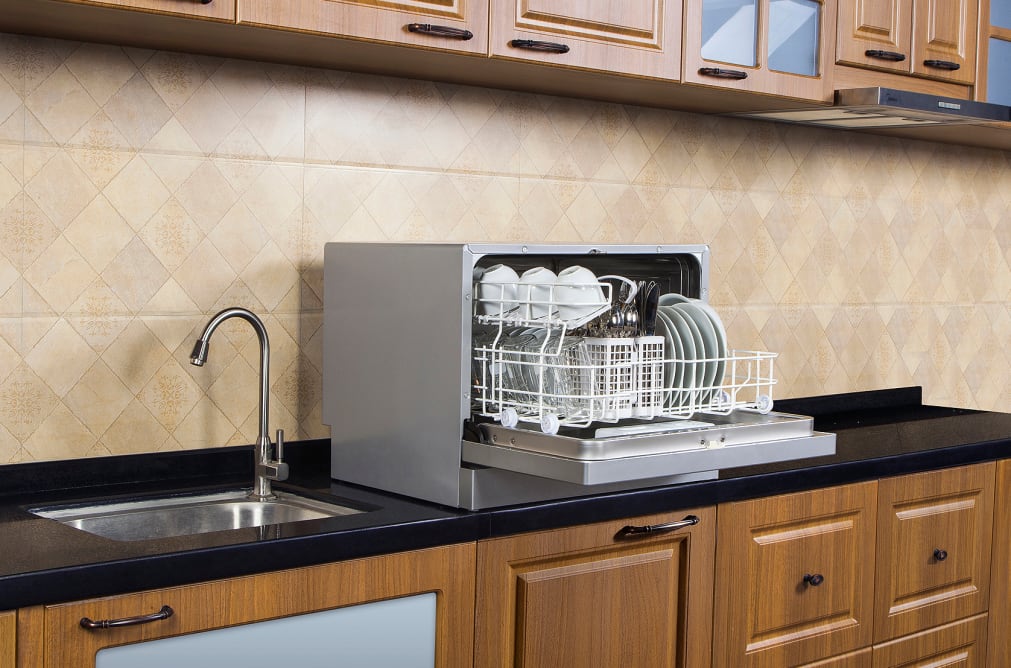 Step 2: Buy a tap diverter valve
This is the part required the most investigation. I actually tried several tap diverter valves from Amazon and finally figured out a workable combination.
KES Tap Diverter Valve Angle Valve Diverter Valve
The tap diverter has a switch. It gives you a freedom to switch between normal tap and dishwasher usage.
This is not enough, because the size of this diverter valve is bigger than the dishwasher's pipe. We need another extension to convert the valve from 3/4 inch to 1/2 inch. This is the adapter I bought:
Cornat Chrome red piece 3/4 inch x 1/2 inch
You may ask, why not directly bought a diverter valve with 1/2 inch. The reason is I didn't find this model on Amazon🤔 I also looked for the diverter valve in Bauhaus, but didn't get luck in the diverter hunting.
Step 3: install the tap diverter valve + extension
The diverter valve installation is pretty straightforward. One thing should notice is the gear between adapter and adapter may not be seamless. It means the water may leak from the adapter. My solution is winding the diverter valve with rubber band first and then bolt the adapter. This way, the gap between adapters will be covered by rubber band.
Cool! then it's done!
TURN IT ON
Then it's done! Now the dishwasher water inlet will come from the kitchen tap and the water outlet will directly pipe to sink
I am very satisfied with this setup. The minimal changes brings lots of convenience.
Hope this configuration can solve your problem as well
Enjoy 🙂